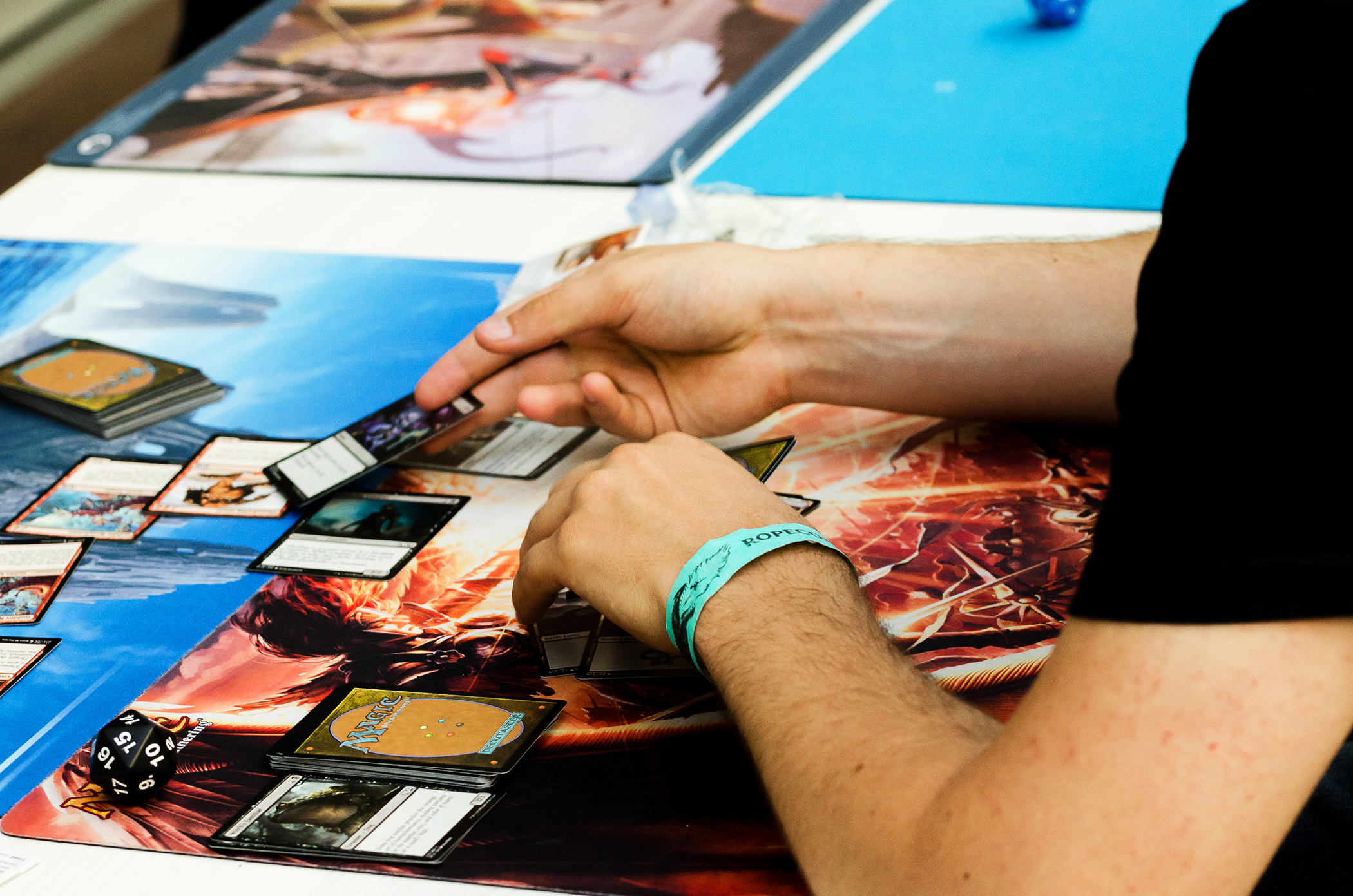 Ropecon 2016 © Sami Eräluoto
Call for Programme 2023
Call for Programme
The programme of Ropecon – just as the entire convention – is organized by volunteers. Hundreds of our volunteer programme organizers run games, hold workshops and shows, give presentations, participate in panel discussions and introduce games for new players during the convention weekend – and so much more!
Organizing programme is one of the many ways you can participate in the making of Ropecon. Each year we have several volunteers organizing programme for the very first time, as well as many familiar faces who return to organize popular programmes year after year.
Whether you are a first-time programme organizer, a seasoned veteran or anything in between, you are welcome to organize programme at Ropecon!
The Call for Programme has ended on 15th of May 2023 and our programme team is currently processing the applications – thank you so much for those who have already applied!
Perks for programme organizers
As Ropecon is an event organized entirely by volunteers, nobody is getting paid, obviously. Instead, just like all of our volunteers, our programme organizers will receive either a one-day ticket or a weekend ticket to the convention as a thank you for their contributions towards organizing Ropecon. In addition, programme organizers can receive other perks as well depending on what kind of programme they organize and its duration.
This year, we aimed to unify and streamline the perks offered for programme organizers and to make our policies as transparent as possible.
There are four different categories for programme organizer tickets and perks:
A one-day ticket is aimed mostly at performers and people assisting in organizing programme at Ropecon; e.g. members of a choir or people participating in a panel discussion. This category does not include a programme organizer badge.
A one-day ticket, a programme organizer badge and a meal perk are aimed at those programme organizers who organize a single instance of a short programme. Examples of short programme in different categories include a 45 min presentation or workshop, a single run of a table-top role-playing game that is under 4h, a freeform/blackbox larp, or a single demonstration/open game held at the Experience Point.
A weekend ticket, a programme organizer badge and a meal perk are aimed at those programme organizers who organize either a single instance of a longer programme, or multiple instances of the same shorter programme during the convention weekend. Examples of these include a single 105 min presentation, the same workshop held twice, a table-top role-playing game/larp/game tournament that is over 4h long, or two runs of the same shorter role-playing game/demonstration that is at least 2h long.
A weekend ticket, a programme organizer badge, two meal perks and a free volunteer T-shirt are aimed at those programme organizers who organize more than one programme during the convention weekend or organize at least two different programmes. Examples of these include organizing or taking part in two different presentations/panel discussions, organizing a presentation and running a shorter table-top role-playing game session of less than 4h, and many other combinations of similar or different types of programme. This category also includes programme that is held over multiple days during the convention weekend, such as longer game tournaments, as well as running continuous games, such as revolving-door role-playing games.
Please note that a wristband ticket earned by organizing programme at Ropecon cannot be transferred to another person.
One-day tickets are meant for the day that the programme you are organizing is scheduled on. You can also claim your wristband ticket in advance, however, as long as you make sure to upgrade it to a weekend ticket so you are able to access the convention on the day of your programme as well. You can upgrade your one-day ticket to a weekend ticket at the ticket sales counter for the price of 11 euros.
A programme organizer badge gives you access to the volunteer lounge during the convention where you can find snacks and drinks. It also acts as an invitation to the volunteer after-party, which is held on the Monday following the convention weekend.
Meal perks allow us to support our volunteers and help them keep their energy levels up during the convention in the form of a warm meal. We are still working on the details related to meal perks this year and will update you on them closer to the convention.
Volunteer T-shirts are unique T-shirts meant for our volunteers featuring an annual illustration. All programme organizers can order a volunteer T-shirt for themselves at their own cost if they so wish. The deadline for volunteer T-shirt orders is 22nd of June 2023.
Contact information
Game programme coordinators
peliohjelma@ropecon.fi
Lectures, spectacles, workshop and general progamme coordinators
ohjelma@ropecon.fi
You can also reach the game program's subsectors if necessary:
Role-playing game coordinators
roolipelit@ropecon.fi
Larp coordinators
larp@ropecon.fi
Miniature game and painting workshop coordinators
figupelit@ropecon.fi
Experience point's coordinators
kokemuspiste@ropecon.fi
Do not hesitate to contact us if you have any questions!