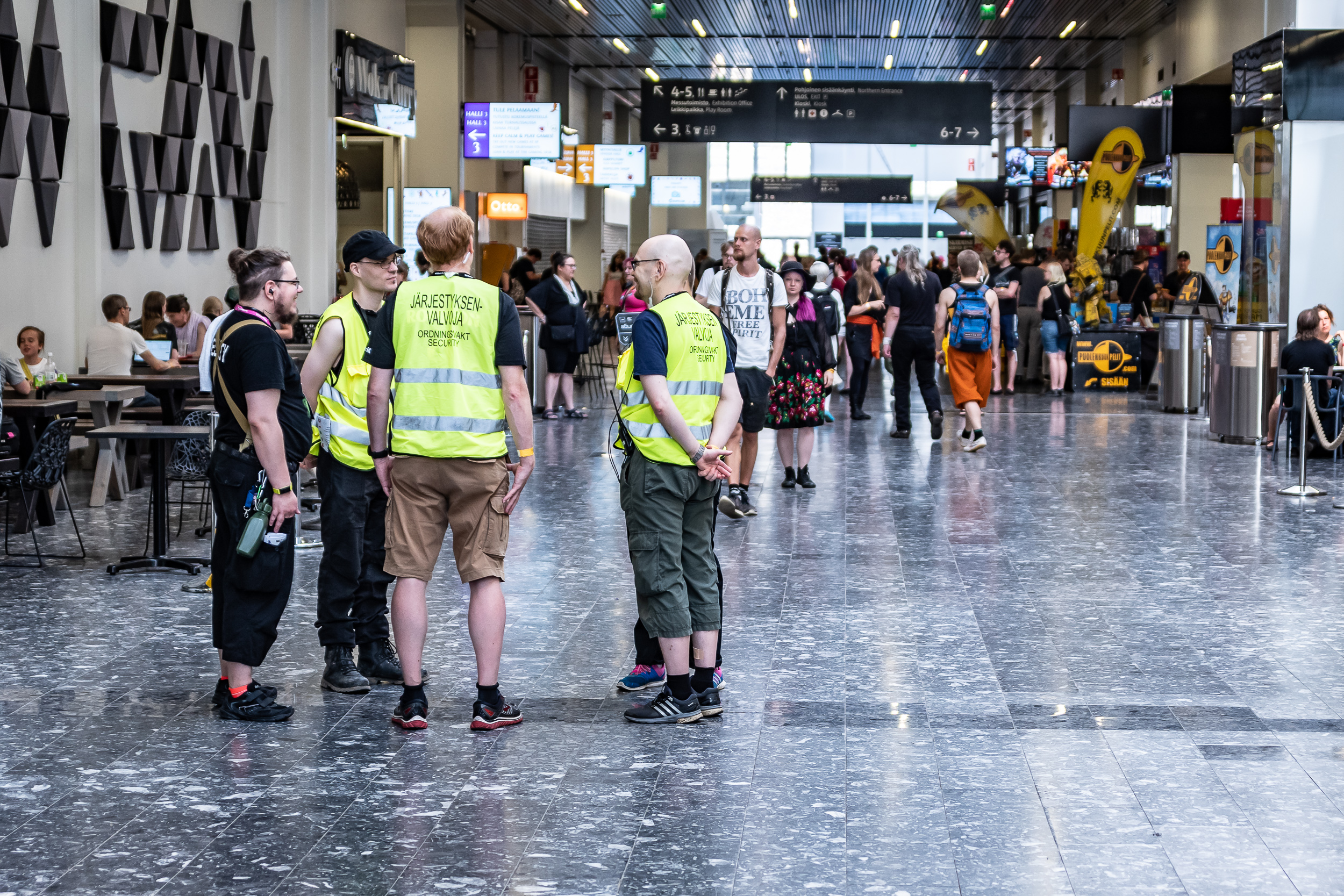 Accommodation & showers
Accommodation
Sleeping bag accommodation is available free of charge for all visitors almost throughout the whole convention weekend.
Accommodation area
The accommodation area is located in Hall 2 of Messukeskus. The entrance to the accommodation area can be found near the Southern Entrance, at the western end of the Glass Gallery.
Upon arrival you will be shown a place from the hall to sleep in. Please note that Ropecon does not offer any accommodation supplies, so remember to bring a warm mattress, a pillow and a blanket or a sleeping bag to ensure a more comfortable rest. The floor of the hall is made of concrete and as such can get pretty chilly. If you have an air mattress, please fill it up at the upper end of the stairs. Please remember that the accommodation area is meant only for sleeping, not for storage: you can store your mattress, sleeping bag and other items at the luggage storage during the day. You must also clean up your sleeping space of all items and before leaving the accommodation area.
Unfortunately it's not possible to charge your phone at the accommodation area.
The accommodation area will be guarded by our volunteer staff members at all times. They will also help you find your sleeping space and assist you if needed.
Other accommodation options
For those looking for other, perhaps more luxurious accommodation options. Holiday Inn Helsinki – Expo is located at the same building with the convention centre and Original Sokos Hotel Tripla is located near Messukeskus. Since public transportation options to and from Pasila are excellent, it is easy to find accommodation in other parts of Helsinki as well.
Please remember that sleeping in any vehicles, including camping vans and trailers, is prohibited in all Messukeskus parking areas.
Washing up and makeup
The shower areas of the accommodation are open throughout the entire duration of Ropecon. The facilities for makeup can also be found in the same premises. We request that heavier makeup than just powdering the nose is done in the makeup area. Please avoid using strongly perfumed products in the makeup area.
You are not allowed to store items in the shower and makeup areas.