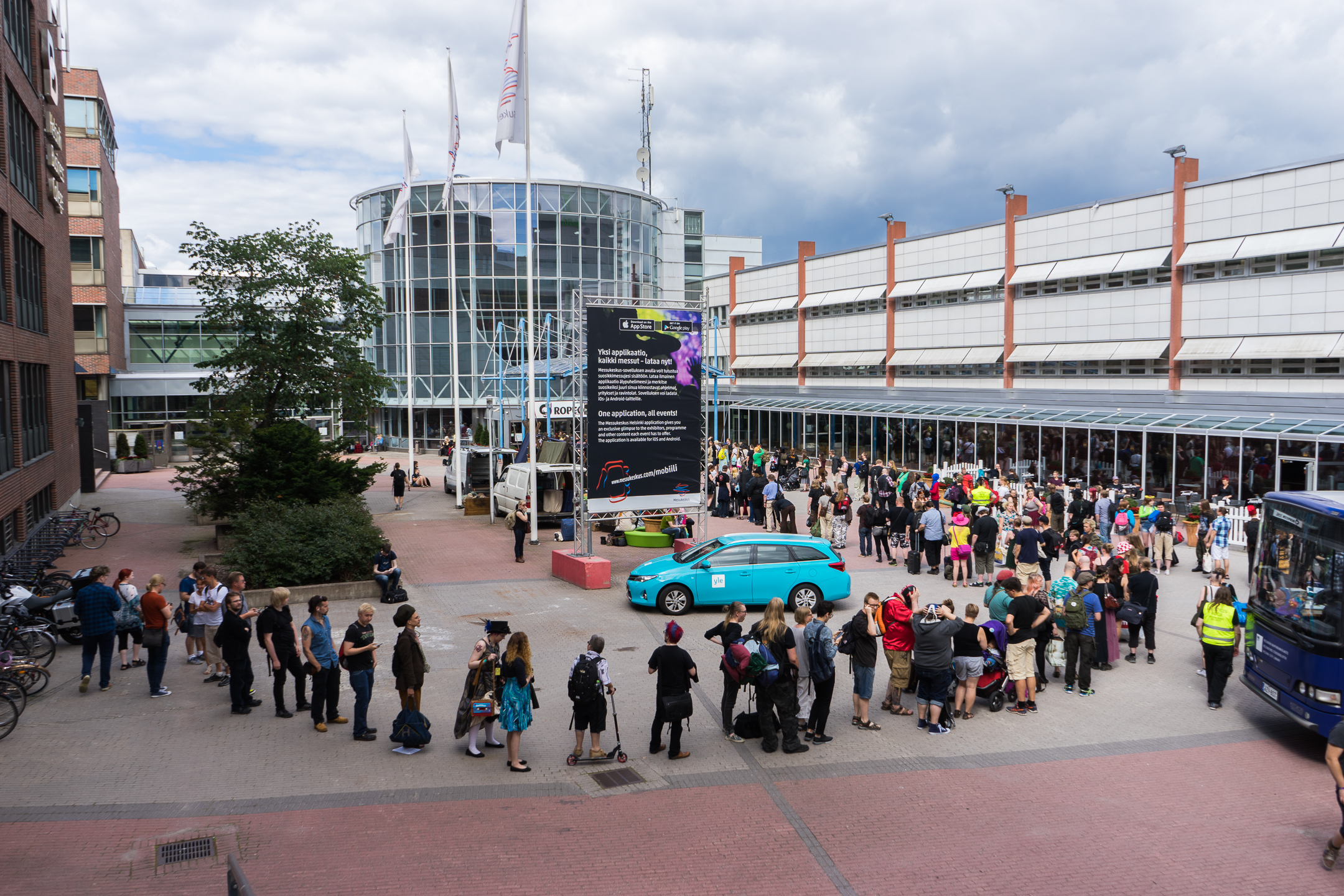 Ropecon 2016 © Mikael Peltomaa
Arrival to Ropecon
Welcome to Ropecon!
Ropecon 2023 will be held from 28th to 30th July 2023 at Messukeskus Helsinki Expo and Convention Centre. The convention starts at 3 pm on Friday, and ends at 6 pm on Sunday.
Messukeskus Helsinki Expo and Convention Centre
Messuaukio 1, 00520 Helsinki, Finland
Messukeskus is located in Helsinki Pasila, close to excellent public transport connections.
Entrances and Tickets
The convention has two main entrances: the southern entrance on Expo plaza and the northern entrance on Expo car park. Ticket sales counters are located on both entrances.
All ticket sales counters accept card payments, specified ticket sales counters also accept cash payments. At the ticket sales counters, visitors receive a wristband with which they can freely enter and exit the event area during the ticket's validity period.
Pre-ordered tickets will be exchanged into wristbands on:
Thursday 27th July, 2023, at Pasila library between 10:00 am and 5:00 pm
Friday 28th July, 2023, at the southern entrance between 9:00 am and 2:30 pm
Friday 28th till Sunday 30th July 2023 at the northern and southern entrances through out the Ropecon Convention.
Regular ticket sales will begin at both entrances on Friday 28th July at 3:00 pm.
Ticket sales opening hours
Friday 3:00 pm – 00:30 am
Saturday 08:00 am – 00:30 am
Sunday 08:00 am – 3:00 pm
When ticket sales counters are closed, tickets can be purchased at the Info Desk.
Cloakroom
Cloakroom services are included in the Ropecon ticket. The regular cloakroom at the southern entrance is intended only for storing small items such as essential outerwear. For storing backpacks and other large luggage, please go to the cloakroom for larger items, which is located at the end of the Glass Gallery.
Cloakroom opening hours
Friday 3:00 pm – 01:00 am
Saturday 08:00 am – 02:00 am
Sunday 08:00 am – 6:00 pm
Cloakroom for larger items is open 24/7 throughout the event.
Public transportation
Please remember that you can't buy a ticket for public transport onboard (except bicycle and Taxi). You need to get one from a ticket vending machine, by using the HSL app or from R-Kioski.
Trams: Due to the construction of a tramway, there will be no tram services near Messukeskus in the Eastern Pasila area until the end of September 2023.
Buses: Tram routes are replaced with bus 7X that will run between Pasila station, Sörnäinen and Kallio.
Trains: All local and long-distance trains (except Allegro trains) going to or from Helsinki will also stop at Pasila station. Walking from the train station through an underpass to Messukeskus is no longer than 300 metres.
Bicycle: There are bicycle stands by the southern entrance of Messukeskus and Siipi entrance. You can also park a city bike either by Rautatieläisentori or Veturitori.
Taxi: The taxi station is located by the southern entrance of Messukeskus. Taxis can drive directly to the front of the entrances.
Parking
The Expo Car Park at Messukeskus is always open. It is located by the northern entrance side, the address is Ratapihantie 17, Helsinki. You can also use the Siipi Car Park located at the end of Ratamestarinkatu 13, Helsinki.