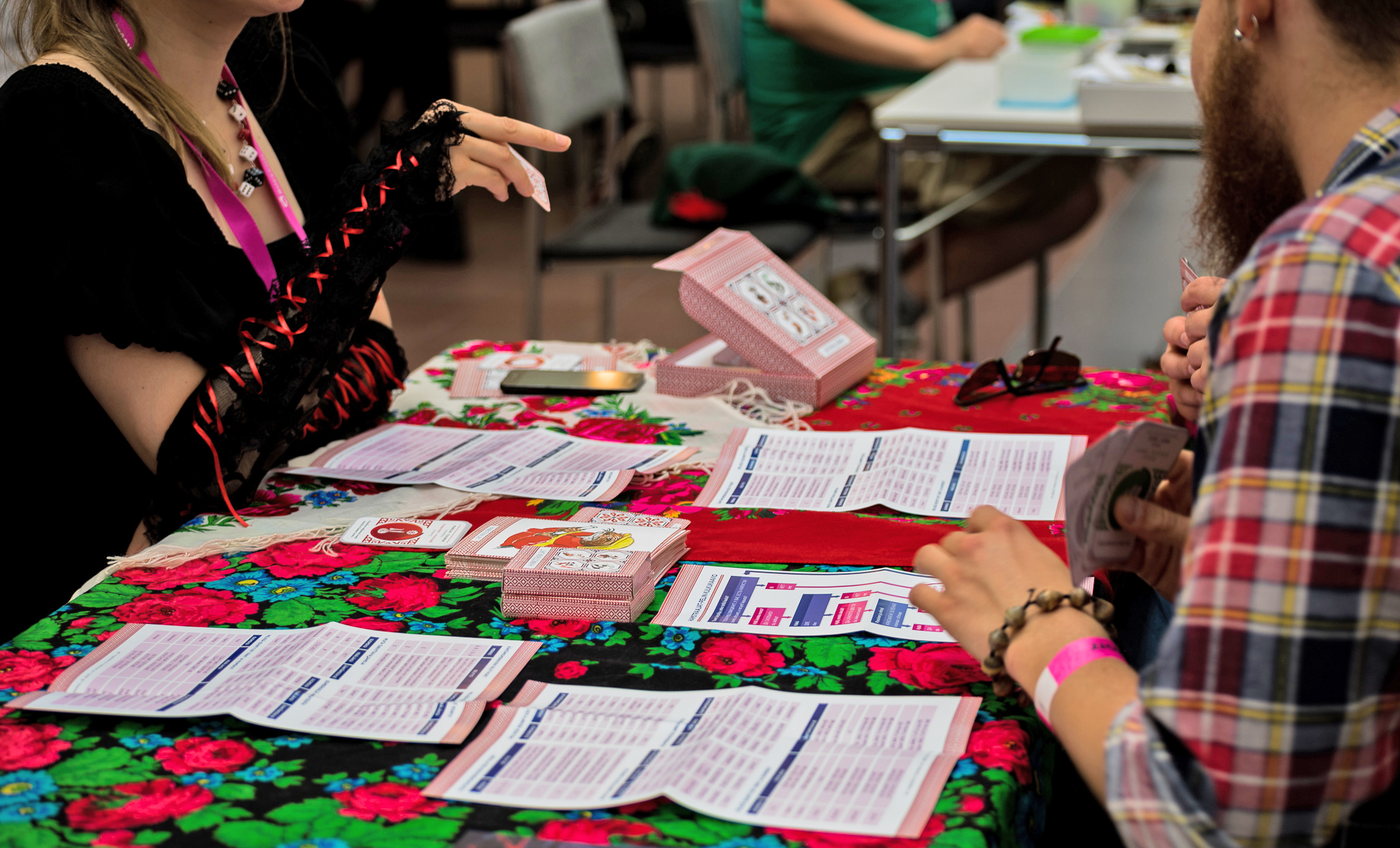 Ropecon 2017 © Sami Eräluoto
About Ropecon's Programme
New experiences every year!
Every year at the Ropecon, new and interesting programme numbers await attendees and visitors. If you have a more special programme idea that you would like to implement at Ropecon, feel free to contact the programme coordinators: ohjelma@ropecon.fi
Presentations, panel discussions and the Guests of Honour
The various presentations and panel discussions held at Ropecon offer both an educational as well as an inspirational look into role-playing games and game design. Experts in the field of gaming and long-term role-playing game enthusiasts introduce attendees to interesting topics and phenomena based both on fictional realities and on the real world, sharing their experiences and giving practical tips on how to bring game ideas to life.
Each year Ropecon features Guests of Honour, who are inspiring international personas, impressive speakers and experts in their respective fields.
Expand your world
Attendees and volunteers are the heart and soul of Ropecon. Many people come to Ropecon every year to spend time with others who share their love for role-playing games, to meet old friends and make some new ones along the way. No matter what universe you are from, you are sure to be in good company at Ropecon.
Looking for like-minded people or advice on how to get started with a new hobby? There are many role-playing game and cosplay related organizations and associations present at Ropecon who are more than willing to introduce you to their activities. You can also purchase tickets to other upcoming events and conventions at their booths. New attendees can visit the Experience Point for further help and advice during the convention.
Games and tournaments
Ropecon features a wide variety of tabletop role-playing games, live-action role-playing games (larps), board games, card games and miniature wargames for its attendees. Skilled players compete against each other in card game, board game and miniature wargame tournaments. Tabletop role-playing games are at the very core of Ropecon. There are always multiple games being played throughout the convention at nearly all hours of the day, guided by dozens of volunteer Game Masters (GMs). Both beginners and more experienced players are sure to find a game to their liking from the diverse selection available at Ropecon.
Workshops, dancing, combat demonstrations and so much more
In addition to games and presentations, attendees can also participate in a variety of workshops, demonstrations and other programme. You can try out boffer (foam) weapon fighting or miniature figure painting, or even build yourself a new prop or an accessory for a larp in one of our workshops. On Saturday, you can admire the fantastical costumes at the Ropecon Gala, or practise your steps and participate in the Historical Dance Ball.
Special spectacles
Ropecon also features special programme. Over the years, Ropecon has presented musicals, concerts, pro-wrestling, tightrope walking, dance performances and much more.
If you have a new creative idea for programme you would like to bring to life at Ropecon, do not hesitate to contact our programme team: ohjelma@ropecon.fi.